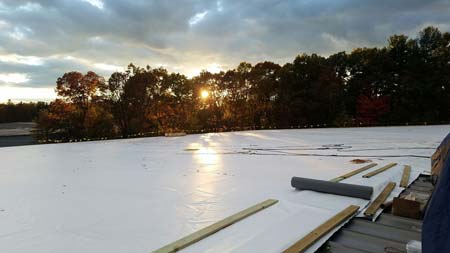 If your business' commercial roofing doesn't live up to your expectations, it can have a detrimental effect on the stability and longevity of the building—not to mention your bank account! Conversely, a quality roofing system, installed right and leveraging the best materials can protect your facilities for decades to come, with minimal upkeep.
At R & H Roofing, we aim to help you achieve the latter, providing the highest-caliber commercial roofing for Springfield, MA. Our combination of tenured experience and quality materials means you're getting only the best roofing installation now and for years to come.
Roofing Excellence
No matter what type of commercial building you're managing, you can count on us to provide you with the same level of high-end service. Our commercial roofing company for Springfield, MA works directly with building owners and managers to ensure communication is kept open and honest at all times. Moreover, we take into account what your building is being used for in order to determine the optimal type of roof, how it's installed and more, creating tailored value for every client we work with.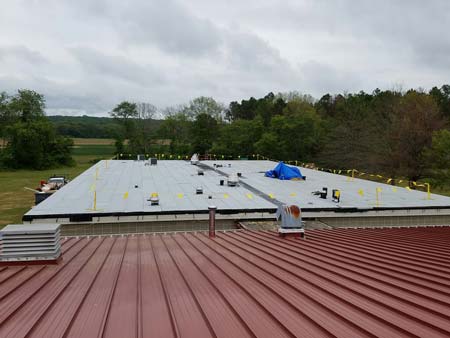 Our experience as commercial roofing contractors for Springfield, MA is exceptional, encompassing a wide range of industries and niches. Some of our most common and well-known clients include strip malls, shopping centers, grocery stores, warehouses, manufacturing facilities and distribution centers, among others.
Products and Services We Offer
Though we have the ability to perform repair and maintenance work for existing commercial roofing systems, our specialty is the complete installation of a brand new system. This enables us to lay the groundwork for sustainability for our clients and do the job to an unsurpassed level of quality.
We also take advantage of the opportunity to work with customers on their new roof by providing insight and recommendations into the optimal type of roofing system. Generally, we educate our customers on the many benefits of EPDM (single-ply or rubber roofing) for commercial facilities. Through this resilient, accommodating system and our knowledgeable installation techniques, our customers are able to take full advantage of an investment in new roofing.
For more information about our commercial roofing capabilities or to inquire about a consultation and quote on your next roofing system, give us a call today at 413-527-9378.