Not just any roofing company is qualified to work with industrial roofing for Springfield, MA, and even fewer understand the true nature of industrial jobs to the fullest extent. At R & H Roofing, one of our cornerstones is industrial roofing, which means we have the insight and expertise to provide you with exceptional oversight and a superior finished product, no matter the size, scope or nature of your job.
A Full Scope of Capabilities
As a full service industrial roofing company for Springfield, MA, we work with building owners and property managers across a wide range of industries, to help discern your roofing needs completely. We can perform virtually any industrial roof repairs you might have a need for, but our specialty is in completely new, comprehensive installations. Our ability to take an extensive industrial project on from start to finish makes us the standard for excellence among industrial roofing contractors for Springfield, MA.
Safety Above All Else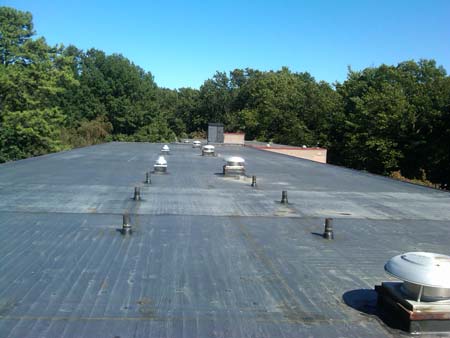 Industrial customers also choose us because we understand the magnitude of every industrial job. There is a level of safety that is extremely important to consider when working on these types of buildings—especially when dealing with machines operating inside. We always keep this in mind and go above and beyond to protect the integrity of your business and its operations during a roofing job. In fact, we've even gone above and beyond to take courses, pass certifications and more to prove our dedication to our industrial customers!
Our Products
Customers often ask us to lend our expertise to industrial roofing jobs, simply to ensure they're getting the most for their money. We're happy to shed light on the benefits of many roofing systems and we frequently recommend EPDM, single-ply, rubber roofing for industrial customers. This popular roofing option comes with a myriad of benefits and can lend exceptional longevity to your facilities.
For more information about our experience as an industrial roofing contractor or to inquire about our full scope of capabilities regarding your industrial project, we invite you to give us a call today at 413-527-9378.